Wafer Paper Rolls
By Reina van der Meer on 08-06-2023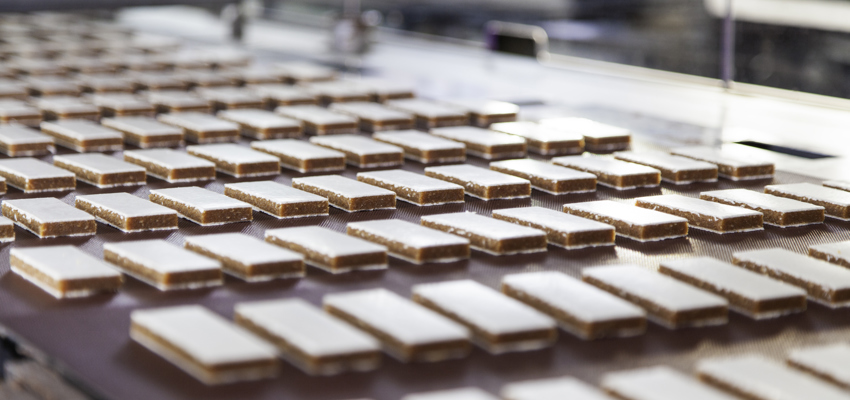 Wafer paper, also known as edible paper, is a thin, edible paper made from potato starch, water, and vegetable oil. It is commonly used in baking and cake decorating for various purposes, such as custom edible printing/branding, creating edible decorations, adding texture, avoiding stickiness or wrapping certain confections.
Thanks to the unique roll-drying technology of Primus Wafer Paper we can deliver the thinnest and most flexible wafer paper available on custom made rolls in the world, ready for industrial use. The 200m long rolls can be customized to any width from 200mm to 1200mm and in various qualities; organic as well as colored, flavored, smooth surfaced or diamond pattern. Our plant is BRC approved on A level.
Over 30 years more than 25 industrial plants in Europe are running their lines with Primus Wafer Paper, day after day. Primus is proud to partner with Sollich, the global leader in modern bar manufacturing. Over the past 35 years, SOLLICH Conbar® lines have become the global industry standard because of its progressive technology, reliability, user-friendliness and the enormous flexibility of its Conbar® equipment. Conbar® bar manufacturing lines are suitable for nearly all products made from fatty masses, soft and hard-boiled sugar masses, aerated fatty and sugar masses, and a wide variety of mixtures containing nuts, fruits and cereals.
Wafer paper on rolls can also be used for industrial purposes beyond cocosmacroons, callisson, turrones, nougat or fruit bar production only. Here are a few examples:
Pharmaceutical Industry: Wafer paper can be utilized in the pharmaceutical industry for its edible and biodegradable properties. It can be used as a carrier for medications or as a wrapping material for tablets or capsules, providing an easy and safe way to consume medication. Especially for people that lack saliva wafer paper is a very welcome alternative to capsules.
Packaging and Labeling: Due to its water degradability it is biodegradable, compostable and can be used as an alternative to traditional packaging materials that is environmentally friendly. The heat sealing properties of the wafer paper fit any standard heat sealing equipment, among selecting  nontoxic ink this prevents any usage of harmful chemicals or glue in the entire packaging.
When considering wafer paper for industrial applications, it's essential to consider the specific requirements and regulations of the industry in question. The thickness, composition, and processing of the wafer paper can vary based on the intended application, so it's advisable to consult with Primus Wafer Paper to ensure its suitability for the desired purpose.
When working with wafer paper, it's important to note that for large packagings it is relatively fragile and degrades when it comes in contact with moisture. Therefore, it is recommended to handle it with care and avoid exposing it to wet conditions, as it may cause the paper to decompose or lose its shape.
Overall, wafer paper on rolls offers flexibility and customization options for your industry, allowing you to create unique and edible products for your customers.
Please send us an e-mail via info@primuswaferpaper.com if you need more information!